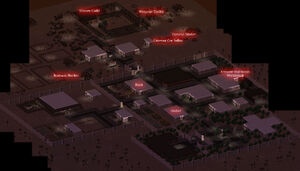 "A city created by people from Vault 15. The most powerful city in the wastes."
Introduction
Edit
The New California Republic is one of the most heavily populated cities in FOnline, mainly due to its security and variety of services.

NOTE: The guards in this "Guarded" town are all inside the cities main walls. Check your party after you leave this town, as you may have snagged a sneaky traveler trying to follow you back to your tent/base.


Bank
Brahmin Herder
Caravan Car Seller
Doctor
General Trader
Slavers Guild
Weapons Trader
---
See Also
Edit
Community content is available under
CC-BY-SA
unless otherwise noted.